PROFILES IN SAFETY - PABLO SCHIAVON
Juan Pablo Schiavon, who goes by Pablo, has served in the safety industry for over 20 years. For 17 of those years, Pablo has worked as a Superintendent at McMurry Construction Co., Inc. (MCCI), an industry leader in the building of internationally recognized hotels.
Licensed and certified in over 30 states across America, MCCI has been involved in over 200 hotel projects including the construction of Hampton Inn & Suites, Homewood Suites, Hilton Garden Inns, Embassy Suites, Marriott Courtyards, and several other major hotel brands.
MCCI hotels can be found in several cities in Tennessee, including Memphis, Nashville, Franklin, and Gatlinburg. They have hotels in Alabama, North Carolina, South Carolina, Colorado, Oregon, Arizona, Florida, and more.
Currently, Pablo is the superintendent over the construction site for the new Hampton Inn & Suites, which is part of the Thornwood property in Germantown, TN.


What does all this mean?
It means Pablo is a very busy safety pro, especially when it comes to the safety of his crew.
Just as MCCI always works hard to ensure that its hotel projects are efficient and maintain excellent quality, Pablo works hard to maintain excellent quality in his safety programs.
"I travel all over the United States helping build hotels," said Pablo, "so I encounter different work crews and job sites all the time. Although the crews and sites are different each time, many of the safety risks remain the same, especially when it comes to rebar, formwork, concrete, and working from heights."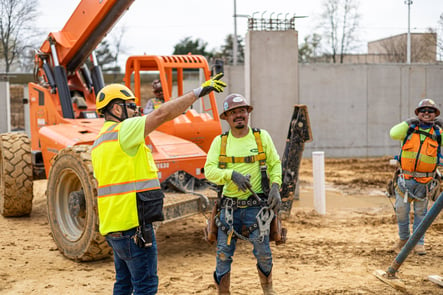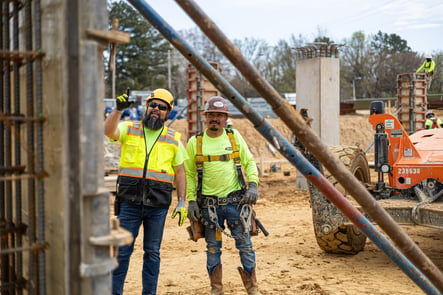 Keeping Fall Protection "Close to the Vest"
Falls are a major construction hazard because they are potentially fatal. Falls and falling objects are so common in construction that OSHA lists it as a Fatal Four; that is, one of the four most common causes of fatalities in construction.
Unfortunately, even a fall from a ladder a few feet off the ground or from a scaffold extending multiple stories can be serious and life-threatening.
Pablo has a keen respect for fall protection, especially when working around rebar and the erection of formwork. "Rebar is common to construction and commands the daily attention of safety pros because it is downright dangerous," said Pablo. In addition to strain and back injuries, tying rebar has many risks, including cuts, abrasions, puncture, lacerations, pinches, slips, trips, falls, and even impalement. "Even rebar scraps lying around the job site can cause workers to trip and fall."

"Working at heights is always problematic and loaded with risks, but if you are working at any height above exposed rebar, you better have fall protection and prevention measures in place," said Pablo. "And they better be good ones."

Workers can also easily fall during steel fixing and formwork erection.

When using concrete formworks, blow-outs, which are a break in the form, are a very terrifying possibility that can result in tragic effects on the structure itself and the people working on the structure. To protect workers and keep the construction site safe, "Safety pros need to keep the OSHA standard for formwork 'close to the vest,'" said Pablo.
OSHA 1926.703 Requirements for Cast-in-Place Concrete Formwork shall be designed, fabricated, erected, supported, braced and maintained so that it will be capable of supporting without failure all vertical and lateral loads that may reasonably be anticipated to be applied to the formwork.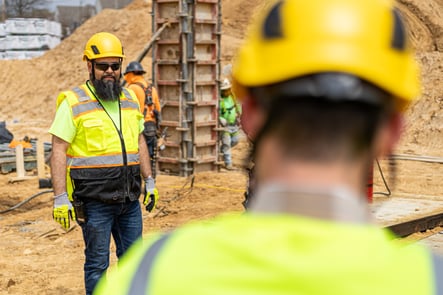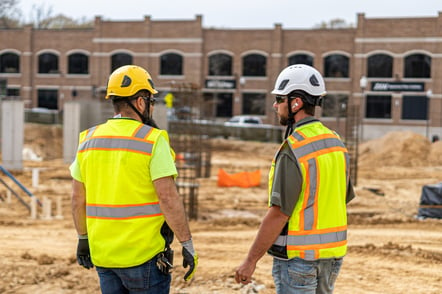 Common Fall Hazards at Construction Sites
"In addition to rebar and formwork, construction sites are rife with other trip and fall hazards," said Pablo. "It's the nature of construction, so construction safety pros have to be more vigilant than many of their safety peers in other industries. I can't stress enough how important fall protection is in the construction industry."
Other common causes for trips and falls at construction sites include:
Working at heights

Cramped work areas

Inadequate access

Failure to install guardrails

Failure to use fall arrest systems

Tools, debris, or other materials left underfoot

Ladders and stairs

Holes, trenches, and openings

Scaffolds and other elevated platforms

Rocks underfoot

Messy Jobsite

Talking on a cell phone and not paying attention to where you are going

Concrete Construction Hazards
Concrete is the lifeblood of construction. It gives shape and form to buildings and roadways across the nation. Just as rebar and formwork have unique safety hazards and challenges, so does pouring concrete and the substance itself.

"Even the most basic of concrete worksites can be filled with safety hazards," said Pablo. "Whether you're pouring concrete for a simple residential driveway or for a high-rise building, safety pros will need to plan ahead to avoid concrete construction hazards."

Some typical injuries associated with working around concrete include:
Chemical Burns

Respiratory irritation, illness, or infection

Back injuries from improper lifting of heavy concrete slabs

Form blowout

Injuries from falling objects

Falls from elevated platforms

Struck-by vehicle accidents

Workers getting pinned between concrete slabs or being crushed by falling slabs from forklifts

Falls from wet concrete on the bottom of a worker's boot
To keep his crew safe, no matter what city he is in, Pablo leads and demands crew attendance at toolbox talks, safety meetings, and safety training programs.

"Just like PPE, hazard awareness is a major player in prevention," said Pablo, "and these types of gatherings bring safety to the forefront, just like Construction Safety Week does."

When it comes to PPE, his construction crews are geared-up head to toe with fall-arrest equipment, hard hats, hi-vis apparel, heavy-duty boots and gloves, safety glasses, and hearing protection. By making his workers aware of the hazards and choosing comfortable and functional PPE, Pablo is on a mission to keep his crews safe every day.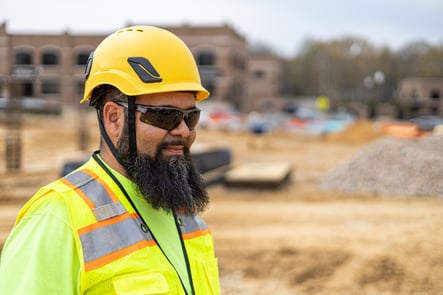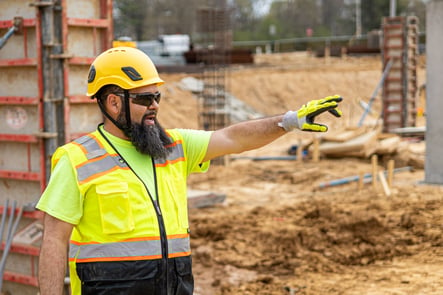 Subscribe & Never Miss a Post