PROFILES IN SAFETY - JAMES MORGAN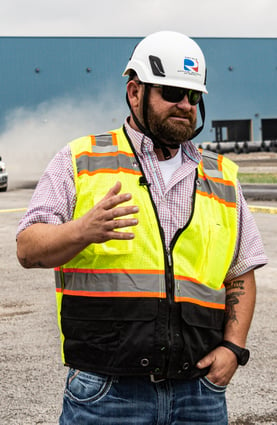 James Morgan, superintendent at Stracener Brothers Construction and a certified Master Rigger, has worked in construction for over 25 years. He's done everything from the dirt work to installing the last doorknob in a house to managing million-dollar construction projects. He is also a certified Scaffold Inspector and has training in Confined Spaces, First Aid, and CPR.
He is currently working and supervising 120 people at the Big River Steel project in Osceola, AR. Purchased by US Steel, this 3.2-billion-dollar project is the largest construction project in Arkansas history.
His construction journey began when he was 18 years old. He left his family's farm, went to college to study engineering, and during the summer break, he worked construction jobs at his uncle's company, Cooling Tower Erectors (CTE). His very first construction job was driving a forklift, unloading trucks, and distributing building materials to where they were needed at the construction site.
"I grumbled about this task," he said. "I was a farm boy who wanted to learn construction. In my mind, I had simply gone from driving a tractor to driving a forklift when my passion was to build and erect."
Later in life, Morgan realized just how much his first job of driving a forklift helped groom him for the bigger jobs ahead. "My first job gave me the leadership skills to deal with people, materials, and logistics. All these factors were important then, and they are still important today," he said.
Morgan worked for his uncle at CTE until age 22, when the Enron scandal shut down small cooling tower companies. Next, he found employment at PSI Erectors where he was hired as a foreman. "To be honest, I was a little apprehensive about taking on the role of foreman at age 22," he said. "But the superintendent believed in me and said, 'Son, you know what to do; you've been running crews for four years now.' And that's when I realized how important my first job was to my construction career."
Safety at the Steel Mill
Steel is one of the most important products of the modern construction world and is of strategic importance to any industrial nation. "The safety that goes along with the iron and steel industry, is very important because this industry inherently has an overabundance of potential risks and hazards," said Morgan. "Basically, you need to have your PPE on the minute you step out of your truck."
Some of the essential PPE worn by his crews include Metatarsal work boots, hard hats, safety glasses, a variety of work gloves for different applications, hi-vis apparel, retractable lanyards, harnesses, and hearing protection for cutting and grinding tasks. Some of the common risks they must mitigate include slips, trips, falls, dropped objects, and hand injuries.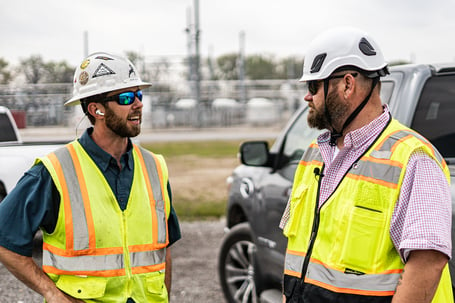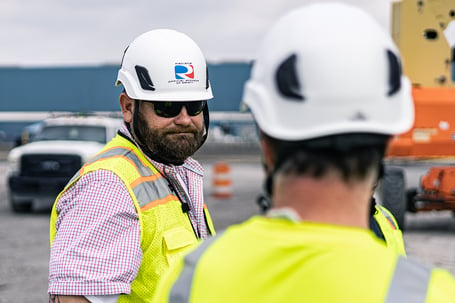 Adaptability and Communication in Construction
Morgan believes that adaptability and good communication skills are key personality traits of construction safety leaders.
Morgan believes adaptability is critical for successful and safe job sites because construction pros repeatedly encounter change. Construction workers and safety leaders must be "very flexible and adaptable when it comes to change because the weather changes, the job changes, the PPE changes, the environment changes, and new contractors and crews may move in," he said.
"You must also continuously communicate and express the importance of your safety culture to your crews. You can't just say, 'wear your PPE,' you have to tell them why they need to wear it, what's it for, and how that PPE is going to take them home safely."
To help with communication, Stracener Brothers Construction conducts a weekly company-wide safety meeting and daily 20-minute Tool Talks with the different crews.
Morgan's foreman, Jaime Hernandez, helps with the Tool Talks as he runs many of the jobs and oversees seven crew members. "I can't be everywhere because I am bouncing around to different crews and sites," said Morgan, "so I depend on Jaime, who I have worked with for eight years. Jaime and I have a saying that we rely on every day, 'Start Safe. Work Safe. Go Home Safe.'"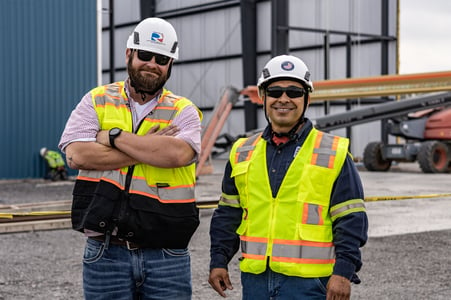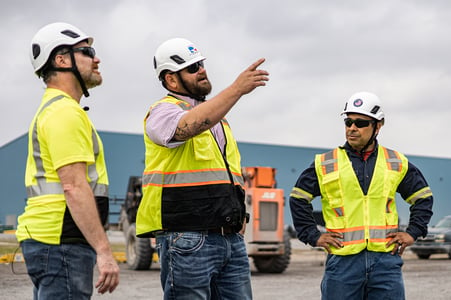 When not working, Morgan works out five days a week at the gym. He is also an avid deer hunter and enjoys fishing too. He is looking forward to deep sea fishing later this year off the coast of New Orleans. He has an eye for landscaping and likes to win "Yard of the Month."
Topics: spotlight, construction safety week
Subscribe & Never Miss a Post