PROFILES IN SAFETY - KENDRA THOMPSON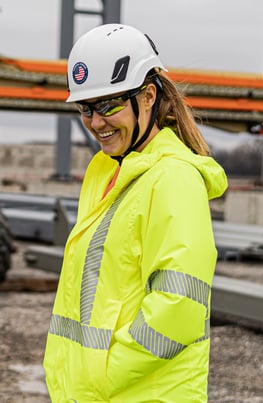 Kendra Thompson has been a construction pro for over 13 years. A pipefitter by trade with keen organizational skills, she became a project coordinator in the steel erection field. She grew up in Clarksville, AR, and now lives in Cabot, AR, with her husband, T.W., and her two beloved dogs: Odin and Della. Currently, she works at Bracken Construction in Osceola, AR, performing both managerial duties and field work.
Nuclear and Ironwork-A very Dangerous Industry
Kendra's construction journey began in 2009 as a scaffolding laborer at Arkansas Nuclear One (ANO), a two-unit pressurized water nuclear power plant located on Lake Dardanelle outside of Russellville, AR, which is owned by Entergy Arkansas and operated by Entergy Nuclear.

As most everyone knows, working at a nuclear plant requires extreme safety measures because of the risk of radiation exposure. "The PPE we had to wear for protection against radioactive contamination and chemical products made the job difficult due to the poor visibility and restriction of movement," said Kendra.
"In 2009, all PPE was men's PPE, so everyone looked like the 'Michelin Man' at the plant," she said. "The bulky suits we had to wear were uncomfortable, especially in hot weather due to poor thermal regulation that trapped perspiration inside the garment."
Steel Workers Have the 5th Highest Rate of Fatal Injuries
"Construction and steel workers, whether male or female, are active in one of the most dangerous civilian jobs in our country," said Kendra. "The U.S. Bureau of Labor Statistics reports that we have the 'fifth highest rate of fatal injuries with 36.1 deaths per 100,000 in 2021.'
"Thank goodness OSHA has established safety protocols now. Often, people don't understand just how many people had to die in the steel and ironwork industry before safety protocols were put into place by OSHA," she said.

"Once injuries and fatalities frequently occurred, then OSHA came on the scene to determine the cause of death or why an injury happened. OSHA wasn't just sitting around inventing protocols out of the blue," she said. "The safety measures and protocols were put into place after death and injuries occurred. I think it's important to recognize what was lost that now provides us with the standards, the tools, and the PPE to perform work and go home safely to our families."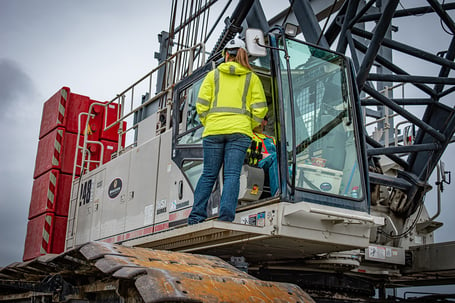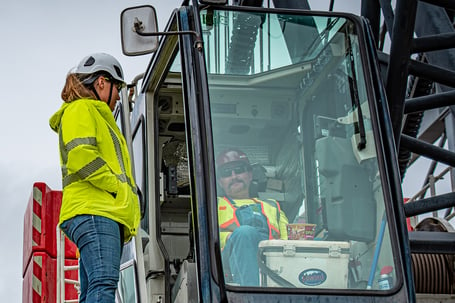 How has the culture changed for women in construction over the past couple of years?
"In the past, women in construction weren't always acknowledged for what we had to offer. It was often assumed that we were at the job site for a secretarial role or solely because we knew someone.
"However, contractors are beginning to understand that women can and will work! Women can run jobs just as good or better than men, which is leading to competitive pay where women can make as much or even more than men, especially when overseeing managerial duties while running jobs in the field."
Kendra said she "is obsessive and very particular about how construction tasks and safety protocols are managed." She loves how working in construction gives her the freedom to use those traits to the benefit of others and herself.
"I am fastidious about keeping projects organized and implementing the right business and safety processes. My mindfulness may mean tasks and procedures take a little longer in the beginning, but it saves hours and people's lives in the long run," she said.
"I have found that other women on construction sites are incredibly detailed and meticulous, too. We want things to be right. We don't want to revisit a task two or three times to get it right. And that's proving to be a bonus for contractors and business owners who employ women for their jobsites," she said.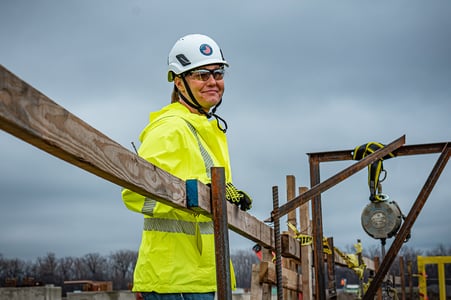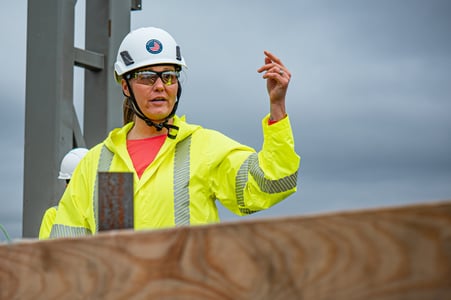 What's a Typical day for You at Bracken Construction?
Kendra gets up at 4:15 a.m. and is at work by 5:45 a.m. to engage in foreman and material handling meetings where expected deliveries, daily tasks, and safety protocols are discussed. Some of her tasks include production tracking, document and quality control, project management, and field work. She wears many hats and works on multiple projects, including construction sites in Texas, Arkansas, and Indiana.

PPE Challenges and Solutions
Since construction and industrial work usually requires working at heights, fall protection is one of Kendra's biggest PPE challenges for women.
"Currently, harnesses aren't designed for the female form, especially in the chest area. The straps come straight over the chest, not allowing for our shape," she said. "They are uncomfortable and can negatively impact productivity."

Another PPE challenge for both women and men are gloves that don't fit or that cause your hands to sweat. "Gloves that don't fit can easily get caught in tools, like grinders or saws, and then you have a missing finger. Gloves that cause your hands to sweat are frequently removed, exposing workers' hands to more risks," she said.
Kendra said she doesn't mind wearing men's gloves provided "leather gloves are offered in small and dexterity gloves are offered in medium sizes."
Kendra is not crazy about pink hard hats or pink apparel. "The pink hard hat points us out when we just really want to fit it," she said. "What women need is a hard hat with a suspension system that accommodates thick, long hair or dreadlocks." She appreciates how the Radians Titanium climbing style safety helmet has a slot at the back of the helmet through which her ponytail or braid can be pulled through easily.
Kendra is glad to see that in 2023, PPE manufacturers are acknowledging the importance that comfort plays in productivity and the bigger role that women are playing in construction and the trades. "It's encouraging to see how companies like Radians are designing PPE apparel to comfortably fit the form and shape of a woman while still providing the same level of protection."

"Personally, I really appreciate the high zip feature of Radians' hi-vis vests for women, the contoured waists, and the smaller arm holes. The fit really makes a difference in performance, comfort, and style," she said.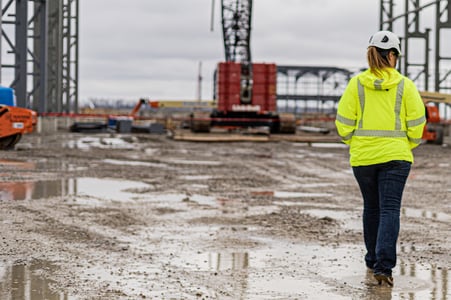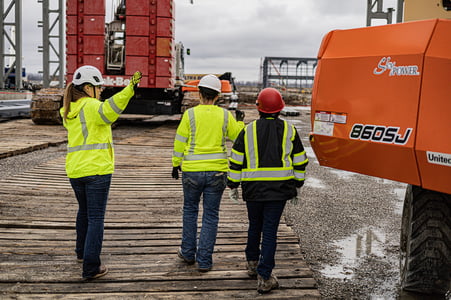 Job Site Dangers are Shared by All
When it comes to common job site hazards, Kendra believes, "The risks are usually the same for men and women. Job site dangers don't change given your gender. Anyone dressed in improperly fitting PPE—whether male or female—will run the risk of injury due to apparel getting caught in machinery or snags that lead to trips and falls. Same goes for heavy lifting. If you don't lift an item properly or aren't aware of your lifting limitations, you run the risk of hurting your back, whether you are female or male."
"It's just that women are exposed to more risks when they are expected to perform work in unisex or in oversized men's clothing that don't fit properly."

How to Guard Against Complacency
However, she said, "Complacency tops the list of job site hazards. It is a danger that lurks in the corners and crevices of all job sites. And it can happen anytime and anywhere to management and the workforce alike."
"The distribution of unisex PPE to the masses without regard for the needs of women or the individual is a good example of complacency. Just because a process was done a certain way in the past, doesn't mean it will work today," she said.
"So, guard against the complacency monster with active engagement and communication with your team via training, toolbox talks, and safety incentives. Let your team, including female employees, have a say in the PPE you select for them, and that gesture alone will help you fight complacency among your team."

Trends in Women's PPE
Kendra thinks that purchasing women's PPE hasn't caught on yet like it should. "Even women who work in construction aren't aware of the options like they should be," she said. "Too often, women nonchalantly accept the unisex sizing or small and medium sizes in men's apparel, without making a sound. But this needs to change. Women need to ask their superiors for women's PPE. It could be as simple as that."
However, she does think that the need for women's PPE will become more mainstream in the future and that safety for women in general is getting better, thanks to events like Women in Construction week and manufacturers, like Radians, who are answering the call.
Women and Stress in the Workplace
While job site risks typically impact male and female workers equally, Kendra believes women who work and have families are subjected to more stress in general. "Like I said in our Teams chat, women focus on details, accuracy, and wanting tasks to be done correctly the first time and in an orderly fashion. This paradigm plays a huge role in the mindset of women. At work and at home, we often pile too much on our plates trying to perform and present well in front of others. Naturally, we are nurturers and that certainly shows in the way we work."
In addition to the strides that are being made in women's safety, Kendra is "excited to see how companies are acknowledging mental health, burnout, and being more understanding that work doesn't stop when women go home. Many women have spouses/partners, children (or in my case dogs who are my kids) and a household to tend to when quitting time rolls around. It's a full-time job, and I know how much of a toll it can take."
"So, whether you are erecting scaffolding, in the office, in the field, or completing OSHA documentation, don't forget to take time for yourself," said Kendra.
"If you don't take care of yourself, you can't be there for the people you love and for your construction crew. They matter. And you matter too. And don't forget to ask for PPE that really fits you. You'll be glad you did because safety is a great way to take care of your health and well-being.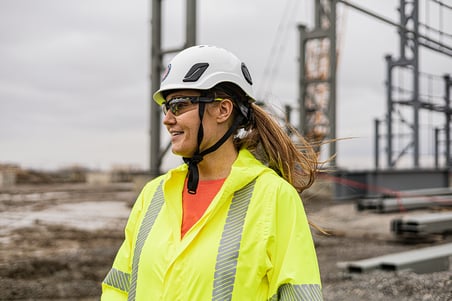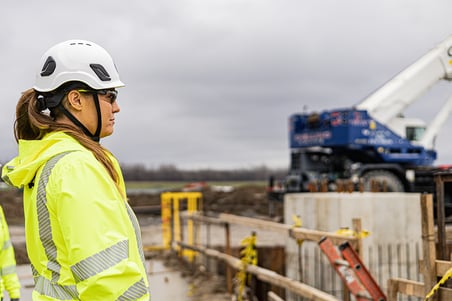 Sideline:
When she's not at work, Kendra, an animal lover, enjoys her 20-acre farm, where she and her husband plan to raise cows, goats, and chickens. She enjoys gardening and her two dogs are precious to her. She loves the people she works with. "We frequently travel as a group moving from one big job to another," she said. "You become like family. We often eat dinner together, making our away-from-home job site less stressful and lonesome for all of us."
Topics: spotlight, Women's PPE
Subscribe & Never Miss a Post