PROFILES IN SAFETY - BETSY MANESS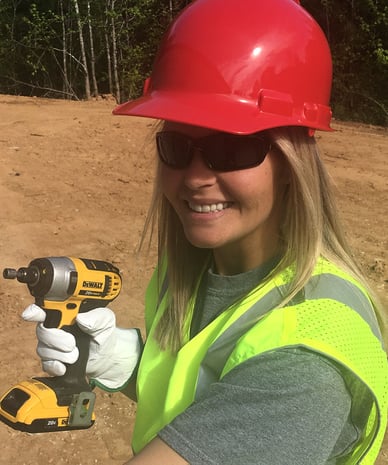 Betsy Maness, a licensed general contractor, is the owner of Southern Home Concepts in north Mississippi. She and her husband, Seth Maness, work together with Andy Walters and several sub-contractors. Together, Betsy and her team build move-in ready spec homes and unique custom homes from start to finish. In the construction business for over eight years, Betsy and her team work hard to ensure that the homes she builds are on time, on budget, and on point with the housing dreams of her clients.
"Building a gorgeous and unique custom home requires attention to a multitude of details, but the most important detail that requires your utmost attention is the safety of your crew and yourself," said Betsy.
"Unfortunately, construction sites are dangerous places, and you have to be mindful of the hazards every minute of the workday, so you won't become one of those dreaded statistics," she said.
"Construction statistics are really scary. OSHA states that one in five deaths among U.S. workers is in the construction industry. And the National Institute of Health says that injury rates in construction are 71% higher than injury rates across all industries on average. You must be careful."
Common risks and hazards of home building—framing and jobsite clean-up
"Framing, sharp objects, debris, and jobsite clean-up pose threats to personal safety when home building," said Betsy. "Residential wood framing is one of the most dangerous specialty construction trades. Framing can expose workers to power tool injuries from nail and screw guns, fall hazards, and general construction hazards. Plus, the wood used for framing is usually heavy and large, which can lead to back and sprain injuries.
"Construction is not only a dangerous industry, but it is a messy one too," said Betsy. "Construction sites create lots of debris such as scrap wood, metal, excess building materials, nails, and screws. Dirt piles and general garbage can accumulate, and tools are often left around, all of which are potential trip and fall hazards and cut hazards too.
"A clean construction site should be at the top of everyone's safety list," said Betsy. "A clean site reduces the likelihood of injuries or illnesses and this helps reduce workers' compensation insurance claims. Clean sites also increase productivity and enhances appearances," said Betsy.
"Just as a clean site is important, so is having the proper PPE for workers. Hard hats, safety glasses, hand protection, and hi-vis apparel are vital in my line of business. Work gloves that grip and prevent cut, puncture, and abrasion injuries are essential for us, and those DEWALT heated jackets are great when it's cold outside."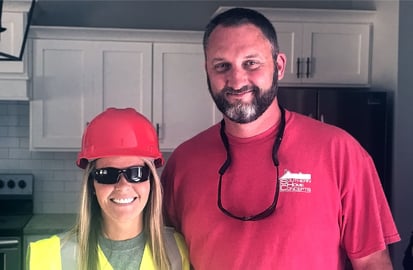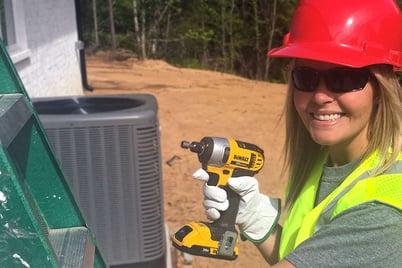 What does it mean to be a safety leader?
"Having a positive attitude and being proactive are key to being an effective safety leader," said Betsy. "Having a positive attitude helps build moral and encourages workers to use PPE. You can be proactive by scheduling daily toolbox safety talks.
"These talks keep workers mindful of the hazards and the PPE they are required to wear. Plus, daily or weekly discussions with workers provide a safe forum for them to ask questions or share their concerns about any new hazards they may have discovered at the construction site. It's also important to discuss any accidents or injuries that have occurred and how they could have been prevented, especially if the worker wasn't wearing his or her PPE. And don't forget the weather, especially inclement weather such as heavy wind, snow, or rain. Inclement weather conditions cause additional jobsite hazards and need to be discussed.
"Be sure to focus on the positive, too," said Betsy. "Toolbox talks should spotlight workers who are adhering to safety rules and regulations. This provides positive reinforcement and applauds workers who take the safety culture seriously.
"Last but not least, toolbox talks are a great time to have your employees inspect their equipment, tools, and the PPE they will be wearing that day to ensure the items are in proper working condition," said Betsy.
"If you are not communicating with your workers as often as you would like to, Safety Week is a great time to begin a Toolbox Talk Safety initiative," she said. "It's also a great time to try out new PPE or to get feedback from your team about the PPE they want to wear. Getting PPE input from your crew goes a long way in getting their PPE buy-in, which improves compliance."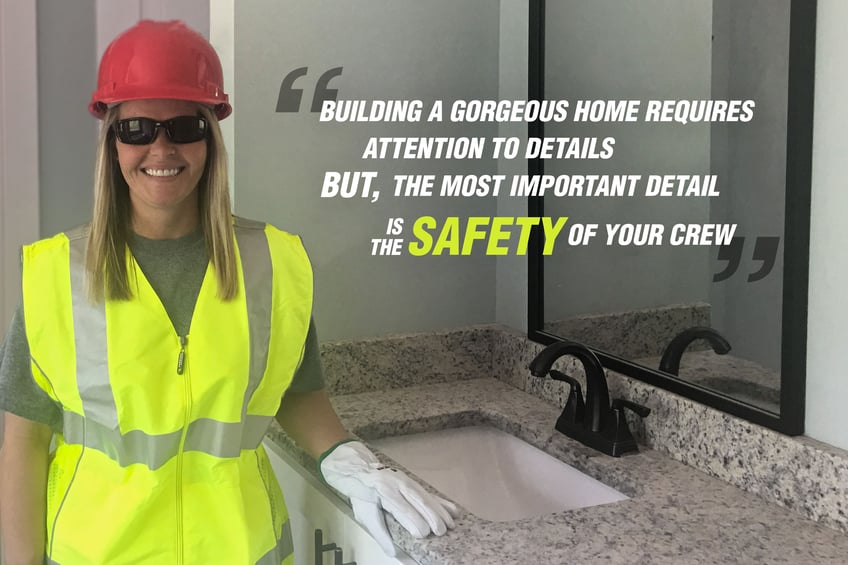 Betsy Maness

Owner | Southern Home Concepts
Subscribe & Never Miss a Post