PROFILES IN SAFETY - APRIL BILLIOT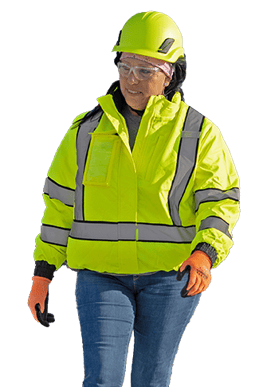 April Billiot has been blazing trails in construction and safety for about 25 years. A full-blooded Native American Indian, she was born and raised in Louisiana and is a member of the United Houma Nation.
From 2006 to 2013, she was also a member of the Louisiana Chapter of the National Association of Women in Construction (NAWIC). "Being a former member of NAWIC helped me to speak up and taught me about the different challenges women face in the construction world, including wearing men's oversized PPE. The organization also encouraged me and made me realize the positive impact women actually have when running a construction job."
April began her journey in construction as an administrative assistant for Scott-Trist Container Services. Then she served as a liaison working with influential construction companies such as the British Petroleum Company (BP), Boh-Brothers Construction Company, Burns and McDonnell, and Woodson Inc.
When the BP Gulf of Mexico Oil Spill happened in 2010 from the explosion and sinking of the oil drilling rig Deepwater Horizon, April was hired by BP as a supervisor with 50 employees reporting to her. This managerial role kicked off her career as a female leader in what is primarily a male-dominated industry.
In her BP supervisory role, she realized she loved working outdoors and she had an epiphany that keeping others safe on the job was her true passion.
"I've done construction work; I've run construction jobs, and I have served in the US Navy, but what I love most is making sure all equipment inspection is done correctly and that my crew is safe.
"I think of my crew as my family and the fact that I have the ability and resources to send them home safely to their families with all their body parts still attached, satisfies something deep inside me," says April.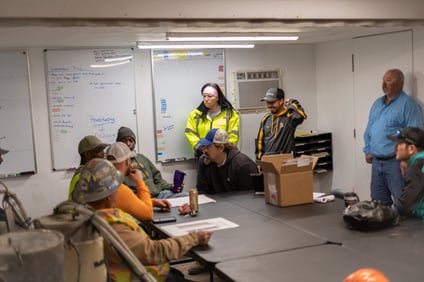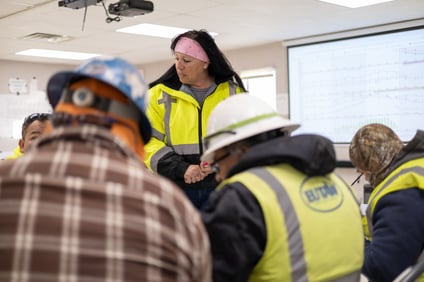 "My 14 years in the US Navy created a 'Leave no man behind and be your brother's keeper' mentality in my mind. I continuously stress this attitude in our Safety Toolbox Talks every morning."
Since safety is April's passion, she began working on different qualifications, including TWIC, OSHA 300, HAZWOP, First Aid / CPR/ AED instructor, and COSS Training. See certification explanations below.
A Transportation Worker Identification Credential (TWIC) is a credential for personnel requiring un-escorted access to secure areas of regulated facilities and vessels.

OSHA 300 are the detailed forms necessary for recording work-related injuries and illnesses.

HAZWOPER is the acronym for Hazardous Waste Operations and Emergency Response. According to OSHA standard 29 CFR Part 1910.120, HAZWOPER training is required for any workers who perform cleanup, emergency response, or corrective actions that involve the uncontrolled release of hazardous substances.

The Certified Occupational Safety Specialist (COSS) has helped workers master the core competencies necessary to be successful in the occupational safety and health field.
"COSS helped me to identify hazards, implement corrective actions, perform risk analysis, and develop and maintain company safety programs," says April.
"I believe my training and certifications helped pave the way for where I am today," says April. "For women to get ahead in construction and safety, which go hand-in-hand, training and certifications help us get the respect that we deserve," says April. "Respect and recognition are not easily won in this field, so certifications, training, and hard work help women to differentiate themselves."
Since August of 2020, April has been with RC Construction Co. Inc. where she is currently responsible for the safety of the 200+ onsite workers involved with the Eutaw and RC Construction Company joint venture in building the Consolidated Deicing Facility (CDF) at the Memphis International Airport.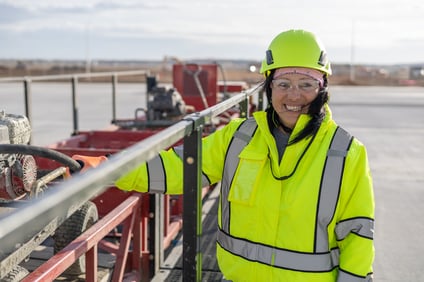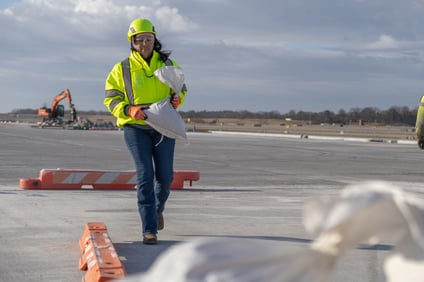 This new facility will provide airlines with a centralized location to perform their de-icing operations during winter weather. This two-phased project involves the relocation of Louis Carruthers Road, the construction of two taxiway bridges, one vehicle bridge, and of course, the deicing pads and associated infrastructure. During this massive and unprecedented undertaking at the Memphis International Airport, April is serving as the Site Safety and Health Officer for the second phase of this very important project.
April believes that "overexertion" is a common risk for women at the construction job site, especially when women want to be recognized as a hard worker among their male counterparts. She advises female construction workers "to pace themselves and when you feel you need a minute, take a break, drink your water, and definitely eat right.
"When it comes to PPE for women, there's hardly been any in the past, requiring us to wear men's clothing. Nine times out of ten, the men's vest or jacket is too big, too heavy, or just doesn't fit right, especially where men's pants are concerned. But things are changing as more women enter the construction arena, the trades, and are serving as site safety managers.
"I am glad that Radians is expanding their women's PPE line. I really like their diamond-quilted Class 3 woman's bomber, the SJ930-3. It's not too heavy but its fleece body and collar lining keep me warm. Plus, the contoured seams provide a flattering and comfortable fit, not a boxy fit like the men's jackets I am used to wearing. It is functional too with its clear badge radio pocket, a vertical zip phone pocket, and there's even a hidden zip pocket under the storm flap, to store a tablet.
"I am also excited about Radians' new hi-vis T-shirts and vests for women too," says April. "Women in construction need these hi-vis staples, and now we can get these items and have them fit us just right."
What's next for April after the deicing facility is built at the Memphis International Airport? She plans to continue her journey in safety and "make sure all of our ladies and gentlemen go home safely at the end of the day."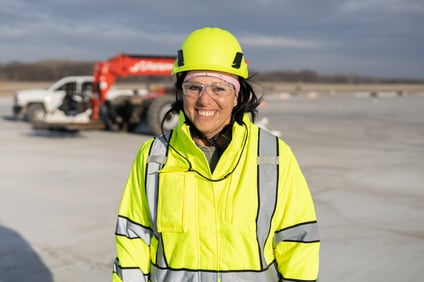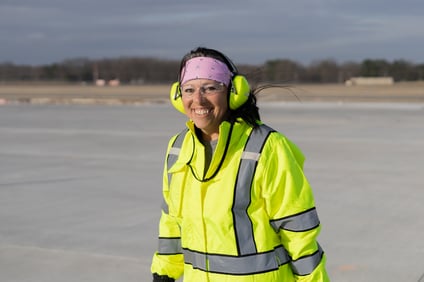 Subscribe & Never Miss a Post