PROFILES IN SAFETY - AMY ROOSA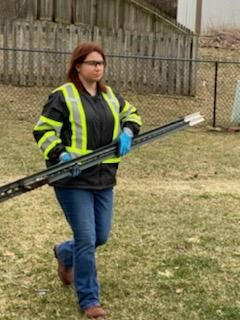 Amy Roosa has served in the safety industry by contributing 18 years of high-proficiency leadership in the Environmental, Health & Safety sectors at several prestigious companies. Her career took her down many safety avenues from wholesale clubs and food safety to foundries to bridges and now to pharmaceuticals.
The EH&S Safety Path of Amy Roosa
Amy began her safety journey as an Asset-Protection Manager at Sam's Club where she spent 10 years as a safety advocate. Her role was to ensure Sam's Club was compliant with federal, state, and local regulatory agencies, including the EPA, OSHA, DOT, ATF, and the USDA. She also trained associates on compliance and food safety issues where she and her team executed the policies, procedures, and action plans to prevent and reduce accidents.

She has also worked with the government division of the National Safety Council and then became a Team Lead & Training Specialist II at the Iowa Department of Transportation, overseeing the internal Health and Safety Program for 2,700 employees throughout Iowa. Next, she served as a Safety Specialist at Airgas and a regional EHS Manager at AmeriGas.

Amy currently works as an EH&S Specialist at Merck & Co., a major manufacturer of well-known pharmaceutical drugs, vaccines, and animal-health products that help millions of people around the world.

During her career, Amy has earned the OSHA 30 card and has advanced Safety Certificates in fall protection and confined space. She believes in continuous professional development and is currently in school to get a degree in Industrial and Organizational Psychology. This area of study will enable her to apply scientific and qualitative research, observation, and evaluation methods to help companies apply best practices by teaching people how to work better and safer together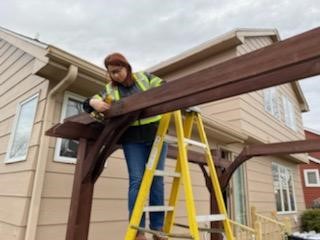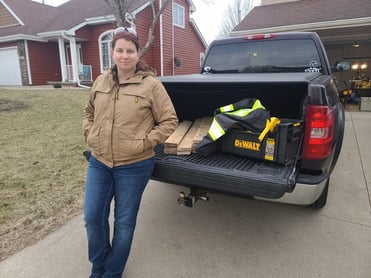 Construction Safety Week (CSW) Matters
"I think Construction Safety Week is important," said Amy. "One of the greatest challenges safety leaders face daily is not speaking with other safety pros. Because CSW promotes honest and critical conversations among all the trades and industry, it helps us build stronger safety cultures and cultivate a safe space where everyone feels supported."

One honest and critical conversation that she hopes will take place during the May 2-6, 2022, CSW is the importance of keeping women safe at work by outfitting them in PPE that really fits them.

"Now, more than ever, thanks to PPE manufacturers like Radians, women's PPE is a pretty simple thing to purchase," she said. "Plus, it has a large return on investment because it reduces injuries, and it contributes to a woman's confidence and sense of wellbeing on the jobsite. No guy on a job site would put up with wearing something smaller, so why should women be expected to wear something bigger than we need to do our job?"

When it comes to wearing PPE in her past jobs, Amy has worn everything from fall protection to FR workwear to the basics, including eye protection, safety shoes, and hi-vis vests and jackets. "I favor the Radians brand because quality wise they hold up longer to the elements that I'm exposed too," said Amy.
CSW Challenge This Year—Make the Switch
Amy would like to challenge all Construction Safety Week participants with women in their crews to make the switch this year to specifying and buying PPE that's made and designed for women. "Just like many in the construction trades are switching from hard hats to safety helmets for improved safety, we need to improve the safety of women by outfitting them in proper-fitting PPE," said Amy.

How Safety Leaders Earn Respect
To become a respected and trusted safety leader, Amy believes you must practice empathy, patience, and persistence.

"Safety leaders must have sincere empathy to understand the thoughts and feelings of the workers we are protecting," she said. "This helps foster a relationship of trust. We also need to have patience because with safety, change doesn't happen overnight. It can take years before we see the changes we want to see and get the buy-in from leadership or employees. But if we have patience and are continually persistent with our goals, we can see that change happen.

"From my own experience, sometimes it's challenging to leave my desk and take the time to get into the field or production line and to actually work beside other employees. Safety needs to be cohesive to the company's operations; it should never upset the daily balance, which means you need to stay close to what workers are experiencing. To become a respected and trusted safety leader, you must keep a consistent pulse on the people to better understand the daily challenges and safety issues they are facing. When you stay close to your workers and aware of the hazards around them, your mission to get everyone home safe each day expands exponentially."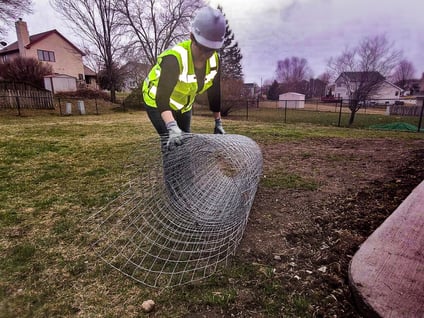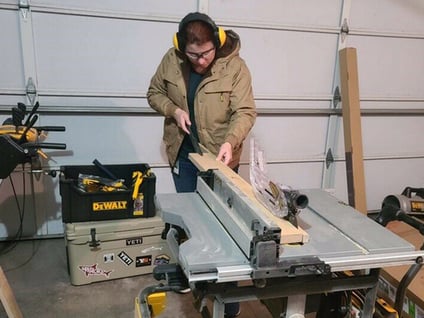 Becoming a Champion for Women's Safety
After she experienced an incident from wearing PPE that was too big and bulky for her, Amy has channeled her passion for safety into becoming a champion for women's safety and the enhanced value that women's PPE brings to the workspace.

The incident that sparked her interest in women's PPE occurred when her over-sized safety vest got caught on a door handle and jerked her back rather suddenly almost leading to a fall. Her concern increased when she saw that other women were having unpleasant experiences from wearing one-size-fits all PPE.

Out of frustration, she asked her supervisor, "Why can't I have something smaller that fits me better?

Her supervisor told her, "That's all we offer, or I can get unisex for you."

"When it comes to a woman's shape and form, everyone knows that Unisex PPE is a joke because it is typically still built for a man," she said.

Becoming a safety advocate for women has led Amy to cofound the Annual Iowa Women in Safety Conference, which usually runs in October. In the first year of the conference, Amy was hoping for 20 women to participate but almost 60 women attended. "We keep growing this conference through word of mouth," said Amy, "and the program for the next conference is based on the feedback we receive from attendees. Our focus is providing information to help female safety pros grow in their careers and feel more confident each year."

Amy believes in work-life balance, and she enjoys rock climbing and martial arts, where she has a 2nd Degree Black Belt. In Iowa, she won a Triple Crown Taekwondo event in forms, weapons, and sparring. She is currently training for competing in the 2022 Chicago Marathon, which will be her second time to compete in that race.

What's next for Amy? Well, she is excited about the launch of her new YouTube channel called "The Safety Rack," where she will review PPE product lines, especially for women. Her channel will serve as a PPE Visual Reference Guide, highlighting the features of the PPE that make it stand out for safety, durability, comfort, and functionality. You can check out her new YouTube channel.
Subscribe & Never Miss a Post