Neese by Radians
HIgh quality fr and rainwear solutions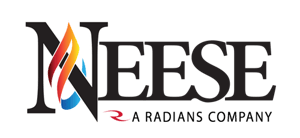 In its 60-year history, Neese Industries grew to be one of the major manufacturers of industrial protective clothing.
Acquired by Radians in 2018, Neese by Radians carries on the tradition of providing high-performance protective rainwear and flame-resistant clothing to keep the global workforce and consumers safe. The pride that goes into every rainwear and FR garment with the Neese label shows up in many ways. From comfort and convenience features to high standards of workmanship, you can always count on Neese to exceed regulatory standards and provide the compliance solutions that safety professionals need.
INDUSTRY SPECIFIC SOLUTIONS
ELECTRIC UTILITIES



The possibility of arc flash is one of the greatest dangers within the electric utilities industry. Exposure to flash fire is also a clear and present danger especially for those who work with electric generation. Neese's FR workwear and rainwear provide comfortable and functional protection for multiple areas within the electric utilities industry, including transmission, distribution, and generation.
GAS UTILITIES



Workers who handle gas are frequently exposed to major flash fire hazards. Neese's FR workwear and rainwear meet all industry safety standards and help protect workers who are exposed to flammable substances. Neese can also provide customizable options to satisfy the specific needs of your safety program.
ELECTRICAL MAINTENANCE



Electrical maintenance keeps the ball rolling for companies that rely on electricity for their facilities and equipment. Unfortunately, working on electrical issues can expose workers to arc flash. Electrical maintenance technicians can trust Neese FR workwear and rainwear to provide the protection, functionality, and comfort they need to stay safe.
REFINERIES AND DRILLING

Oil drilling and refining involve dangerous jobs that expose workers to possible arc and flash fires, chemicals, and harsh elements. Many of these workers are in the unique position of working on rigs out in the ocean where extreme weather is present. Neese offers many different types of protective clothing designed for these situations, including chemical handling, hydro blasting, arc, and flash fires.
CHEMICAL MANUFACTURING



Chemical manufacturers provide consumers with a huge array of products that we use daily. However, the production of these products does not come without risk. Workers in chemical plants can be exposed not only to flash fire but also to chemical fires. Neese's FR workwear, rainwear, and Chem Shield can be a worker's last bit of protection between them and fire or hazardous materials.
POSTAL

United States Postal workers, specifically letter carriers, have to face the elements every single day. Their day can suddenly be interrupted by rain, and they don't have the luxury of going inside to wait it out. Neese provides specially designed rainwear designed for this situation so that the elements do not stop the mail from being delivered.