Be Present. Be Focused. Be Safe.
More than 65 construction firms across the U.S. and Canada have joined forces for the annual Construction Safety Week (CSW), an industry-wide education and awareness event that will be held May 3-7. This year's theme is "Holistic Safety - Be Present. Be Focused. Be Safe."
For information about Construction Safety Week, please visit

constructionsafetyweek.com
.
Now's a Great Time for Training and Toolbox Talks
With the heightened focus and recommitment to safety, CSW is the perfect time for training, toolbox talks, and PPE assessments. The CSW website has materials to help with Toolbox Talks, and so does Radians. Our Fast Facts, which can be easily downloaded from our website, make great instructional handouts for training. We offer several protection categories to educate workers about hand protection, hearing protection, vision protection, heat stress, and more.
In addition to our Fast Facts, the videos below offer insights into new technologies for hand protection, workwear, and anti-fog eyewear. Plus, Radians has lots of product videos on our YouTube channel. Videos are a great tool to use during training and toolbox tops.
Safety Profiles: Men and Women who lead the way in jobsite safety.

Meet three safety pros who know the importance of creating a strong safety culture within their organizations. These construction safety profiles may give you ideas, inspiration, and motivation on how to make safety priority #1 at your construction site. Although each profile is different, Josh, Betsy, and Javier all share the same passion for safety and protecting their team.
Enter the Radians Jobsite PPE Giveaway
To generate awareness for Construction Safety Week and promote worker safety, Radians will give away a Jobsite Protective Gear package! This kit is stocked with PPE essentials, including gloves, eyewear, hi-vis garments, and hearing protection. All designed to keep you safe on the job. Also - the winner will receive a 30-can RTIC® soft cooler!

Act fast! The entry window ends on Sunday, May 9th! To enter, please fill out the entry form below or click here.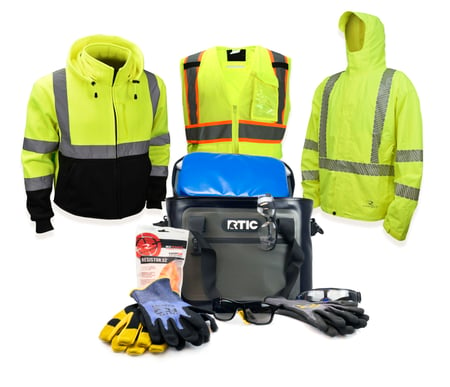 One Grand Prize will be given away at random. This kit is stocked full of Radians and DEWALT safety gear that was designed and engineered to keep you safe.
The Grand Prize features all of the items below: a soft cooler, 3 pair of gloves, 3 high-visibility garments, 3 pair of eyewear, and a bag of earplugs.